Shawn Mendes Accidentally Dropped Camila Cabello In 'Senorita' Rehearsals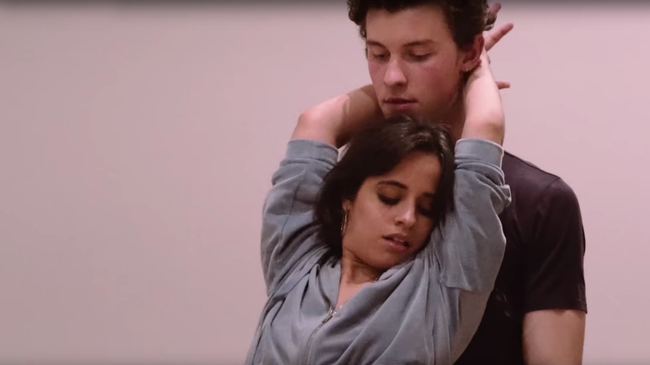 Shawn Mendes and Camila Cabello's steamy music video for "Señorita" didn't come without plenty of practice, as seen in a new behind-the-scenes featurette, which was shared by the latter.
On Monday (June 24), the former Fifth Harmony singer took to YouTube to share a six-minute video of her rehearsing for the Dave Meyers-directed video with her pop peer and it's clear that a lot of work went into the clip. For the video's dance sequence, the duo is seen working hard in the studio to make sure that they have the choreography down, but giggles ensue when Mendes misses Cabello's arm and she falls hard on the dance studio floor. "You can't just drop Camila Cabello. You can't do that. You can't do that again," Mendes tells the camera with a guilty smile. "If you do that again, it's over for you."
"We have a lot of stuff to shoot today, man," he admits during another point in the featurette. "I feel nervous to do this dance. The first scene is the dance scene, which is the thing I'm most nervous about, but maybe that's good?" If you want more behind-the-scenes action from "Señorita," stay tuned for the second installment of the making of the video, which is set to drop later today.
Cabello is performing at this year's iHeartRadio Music Festival in Las Vegas in September alongside a lineup of superstar artists. Fans across the country can tune in and watch an exclusive live stream of the show via The CW App and CWTV.com. Then, on October 2nd and 3rd, relive all of the epic performances from the weekend during a televised special on The CW Network at 8pm ET/PT. And leading up to the official television special, The CW will also air an hour-long Best Of Special on Sunday, September 29th at 8 p.m. ET/PT.
Photo: YouTube/Camila Cabello